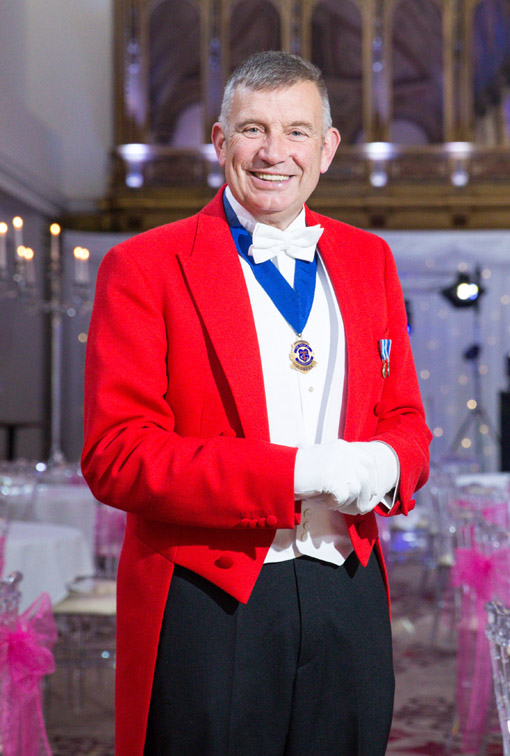 Having worked as a professional Toastmaster and MC for nearly 10 years I am clear about the value of my role. I am now a member of The London Guild of Toastmasters, The Toastmasters & Masters of Ceremonies Federation, The Toastmasters General Council, a partner member of The Toastmaster Partnership and licensed by the British Boxing Board of Control to operate as the Ring MC at Boxing events. He is also first aid trained, fully cleared by DBS Service and has full public liability insurance.
It's not just what the Toastmaster does before and on the day of the event, and not even what he actually says on the day, most important of all is what he enables you to remember of the day. Your event, whether it be a wedding or other function, will fly by and there's so much to take in and remember that it's only by having someone working personally for you that you'll be able to recall those small but personal things you've spent months planning and arranging.
To assist, I am able to offer my professional experience and expertise for a wide range of functions, such as, Wedding Receptions, Civic Dinners, Promotions, Formal Dinners, Sporting Dinners and many more.
It is my aim to make it possible for all involved to relax in the knowledge that everything 'on the day' will be organised discreetly and performed in exactly the way you want. On receipt of your initial enquiry I will arrange a date to meet and discuss in detail your ideas and preferences. I am always pleased to offer consultancy to enhance your event. Together we can create that extra special event. Planning is always the best way of ensuring success. Good planning using quality services, assures an organised and enjoyable event, and I would be happy to liaise with any other persons involved in the organisation of your function.